Pricing
Hotel and 'Manoir' Option
- This depends on the make-up of your group and exactly what you need, so you need to contact us for a quote, but as a rough guide a week can be had for as little as £250 per person including B&B.
Gite Option.
The Gite option is generally available as a full week or fortnight, starting in a Saturday though short stays are possible out of the summer months. In June, July and August cost is £300 + £100 per person per week. So for example a group of 4 would pay £700. This includes the maps and route plans as well as accommodation. Out of this season the cost is £300 + £50 per person. Very high quality bikes are also available for hire at £50 per person per week (you can see details of this at our Breton Bikes site).
The main Gite is our own at 17 Rue D'Eglise Gouarec. This sleeps up to 8. Two other gites are also available, please contact us for details.
17 Rue D'Eglise
If you are looking for a holiday home, lost in the countryside and a car journey from the nearest shop then 17 Rue De L'Eglise (Church Road) isn't for you. If on the other hand you want to wake up and fling the shutters open to be greeted by the sounds of a French village and the smell of baguettes baking then you've come to the right place.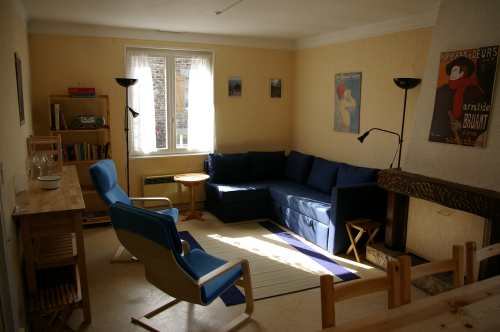 The house is situated in the quiet heart of the village of Gouarec - a village unique in Brittany. Not only is it right on the canal towpath/cyclepath, but also at the start of the "voix verte", the cyclepath converted from the old railway line running through the centre of Brittany. Being placed at this crossroads would be enough in itself, but Gouarec is also a compact village - everything is within 200m of the house. By "everything" I mean the canal, a superb pizzaria complete with oak fired oven, a traditional creperie and one other lunch time restaurant. If you are making your own food then within that 200m are two bakers, and a small supermarket. A much larger and very well stocked supermarket is just 500m away.
Of course all this would be hopeless if the house were on a main road, but it is tucked back in the old part of the village on a road where lorries are banned and cars both slow moving and infrequent. But beyond this are some of the finest driving roads in Europe that will take you throught he heart of Brittany
Last year George Bailey brought his family and emailed to say "If you need American references anytime, we can unqualifiedly praise the gite, its location, its neighborhood and its facilities and its owners." So for anyone worrying about sending money to some crook with a website; let me know and I'll pass on the address.
The Gite is a modern (c1980) detached house but of very traditional style, it also faces South and East so that all the bedrooms start the day with the sun streaming in and both the courtyard and then living room are in the sun all day.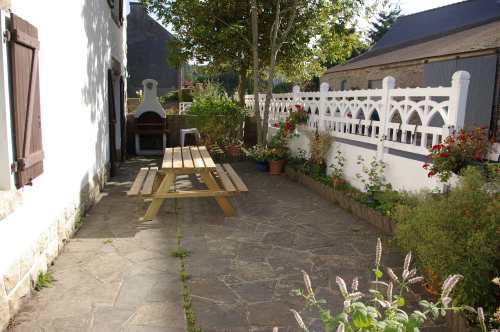 As with many French houses the main accommodation is on the first and second floor, the ground floor being reserved for a garage and utility rooms. The big advantage of this is that the rooms get more light and breakfast can be taken in the kitchen whilst you look down on the world passing by. The kitchen is large enough for 6 people to eat breakfast, for larger groups the living room/dining room has a large refectory table which will seat 10 or more. This living room has a large convertable corner sofa and comfortable chairs, there are also wicker chairs in all the bedrooms that are easy to move around and so make the seating arrangement very flexible.
Sleeping accommodation comprises three double bedrooms, one equipped with a double bed the others with (by popular request) twin bunk beds. The living room also has a good quality convertible sofa so that the gite will sleep 8 with ease. Cots and folding beds can also be supplied if you wish making it ideal for one or two families and raising the number to 10. Stairs are fitted with gates for toddlers and there are even toys for smaller occupants:-) There are also books, comics and a 'primary school' type table and chairs in one of the bedrooms. For grown-ups there's a portable stereo radio/cd/cassette player. This comes with a selection of MP3 discs so I can inflict my taste in music on our guests, this includes 'Harry Potter 1' and 'Lord of the Rings' for children of all ages...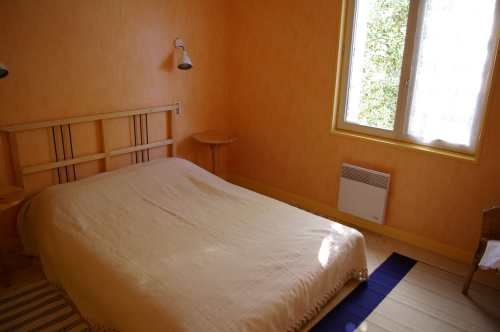 There is no garden but rather a paved courtyard, full of flowers and herbs (in season) where you'll find a large stone barbecue and tables and chairs, this can be locked and so makes a safe area for toddlers providing their first name isn't Houdini.
The house is well equipped and all linen including towels is provided. In addition to personal items and clothes all you need bring are wash kits.
Lastly, unlike most gites we don't charge cleaning deposits or the like, but we'd appreciate it if you could leave the house as clean as you found it (linen etc excepted). If you like (and we quite understand!), we can organise our 'chalet maid' to clean after you have left for the sum of 30e, especially useful if you have to make a run for it early in the morning, please let us know which during your stay - we're trusting types...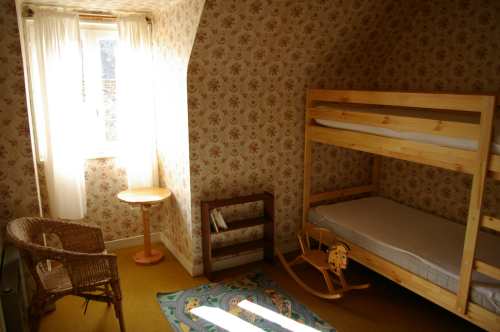 Go see our other business www.bretonbikes.com!